As the kids get older, school and structured activities begin to take over.
Will you make the most of the summer before your child grows up?
Make this Summer Much More Fun!
And Easier too!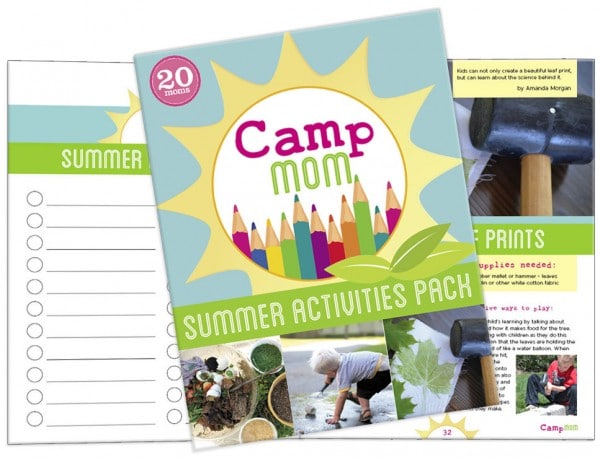 CAMP MOM: Summer Activities Pack
A stunning resource for moms to make this summer fun, and easier too!

Jam-packed with gorgeous photos of super fun activities to do with your 3-8 year old this summer.

You'll be guided on how to make the most of this summer, and many more to come! Enjoy the moments.
Pre-Planned Activities Ready to Grab and Go!
I just want to say how perfect The Activity Room has been for our family. I have 4 kids: 5, 3, 2 and 4 months. From the moment I wake up it's "go time" and I barely have a moment to think. Having pre-planned and (essentially) pre-made activities ready to grab and go have been fantastic. I can have my older 3 all participate at the same time with me. No one gets bored and they all participate in their own way. 

Virgina P, Mother
"Summer will end soon enough, and childhood as well." — George R.R. Martin
You only have 18 summer with your child before they leave.
How many do you have left?
Four summer themes with over 45 Simple and FUN activity ideas with full instructions and supply lists. With 80+ total activities and ideas to do!
Water Theme
Nature Theme
Art Theme
Sensory Play Every Day!
Several printable summer planning pages (art supply prep list, Summer Bucket List template, etc.)
Art supply prep list
Summer Bucket List template
Summer Routines
Summer Tasks
Activity Theme Planner
… and many more!
Reading recommendations to go with each of the 4 themes.
Tips and articles for a successful summer: managing sibling conflict, what to do with the toddler, how to enjoy a museum with your kids, etc.
Adventure ideas and tips – you can have adventures without leaving your backyard or use the ideas to get out and explore your community.
So easy when you're in a funk!
I absolutely love that this takes all the prep work out of engaging my children. It is so easy to just put up the calendar, and glance at it for inspiration when we are in a funk.

Rachel, Mother
OUR SIMPLE & EASY GUARANTEE:
100% Unconditional Money Back Guarantee
It you aren't satisfied in the first 30 days, we would not feel right keeping your money, so we make it easy to get a refund. And just to be clear, there are absolutely no strings attached, no forms to fill out, nothing to prove and we promise we won't even question you.