YOUR INVITATION TO JOIN — ENROLLMENT IS OPEN THROUGH THURSDAY!
Save yourself hours while still creating
special memories & a happy childhood.
No more headache of searching for activities
and wondering if you have the right supplies on hand.
We only open enrollment to The Activity Room a few times a year so we can spend more time supporting and loving on our members.
Enrollment to join The Activity Room will be open through midnight PST on Thursday, January 24, 2019. Enrollment won't open to the public again until May 2019.

Become the activity genius to your child.
Always have something fun to do when you need it.
Do you want your child to grow up with a love of learning so that they'll never stop wanting to learn?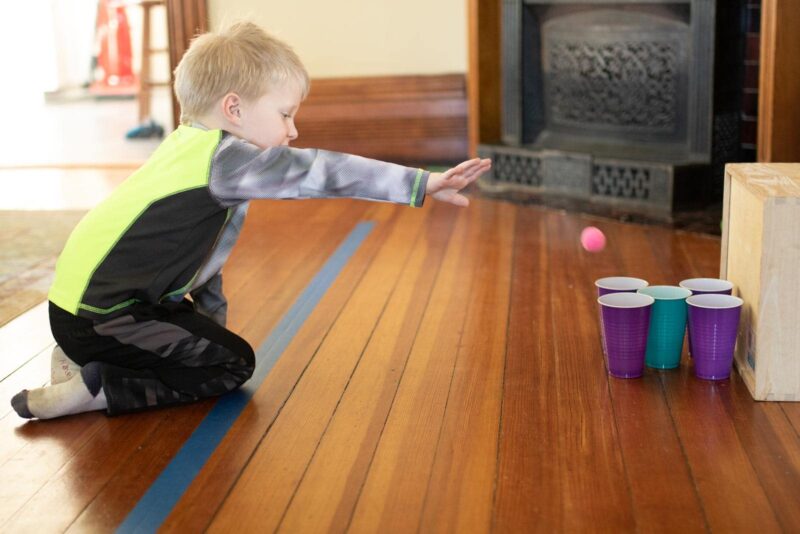 You want to create special memories with your kids that they'll look back on one day and want to create for their own kids.
Are you anxious to make the most of this short time with your kids before they get swept up in school?
Of course you want their childhood to be filled with fun and laughter.
Do you want to find an easy way to create memories with your child?
And want to be prepared for when it gets crazy in your house?
I understand that stress and headache of finding, planning and preparing all these special moments to do with your child.
If you struggle to find the time to plan activities -- like most busy parents I know -- and gather supplies, to come up with the idea of something to do with your child that keeps your child engaged.

If you don't know what to do with your kids when you do get a chance, if you've spent hours looking for ideas to do with your kids on Pinterest or Facebook, if you're just ready for an "easy" button -- then you're about to find what you've been waiting for!
What if you had an easy-to-follow plan?
What if this plan made it quick and easy for you to light up your child's day with cheerful moments?
What if you were prompted with a simple, doable activity each day to do with your child?
Get pre-planned, no-hassle activities for your toddler or preschooler… delivered to your inbox, every week.

Check the monthly supply list and use materials you already have to engage and play with your child.

Become a more confident parent while you invest in your child and be ready to have a really good day — every day.

Connect with other moms for motivation and accountability to make your life easier, and your parenting better!
Always have something to do!
Enrollment will only be open to the public through this Thursday -- at that time we'll officially close the doors until May!

What is The Activity Room?
The Activity Room is an online monthly program that is designed to help you simplify your life while brightening you and your child's day, every day.

It runs much like a meal planning service does, but with activities! How fun!

Inside of The Activity Room, we deliver activities that are designed for 2 to 5 year olds, right to you every week — much like a meal plan would!
The Activity Room makes it easy for you to:
Engage your child with simple ideas

Discover the tricks to doing activities!

Enjoy your days while regularly implementing activities!

The Activity Room is the single best and easiest way to be present with your child every day while you save yourself hours of your time, stress a little less, connect with your child and make tons of amazing childhood memories for (and with!) them.

As a member, you'll become part of a virtual community of like-minded moms. Our private Facebook group is full of support, free of competition and packed with resources designed to motivate and inspire you to be the parent you always hoped you'd be.
Light up your day with cheerful moments.
No matter where you are on your journey of creating a memorable childhood.

You can be a Memory Maker, and The Activity Room will get you there!
Helps Me so Much as a Stay at Home Mom
It took me days and days to plan the perfect activity. They wanted to do their own thing and I would get frustrated. I would put so much mental effort into it and by the end of it, I was exhausted and it was just no fun for anyone. 

With these quick and activities, I don't have to do that anymore. I can actually sit down and enjoy these activities with my girls for one on one time. Or I can sit them down at the table and I can cook breakfast in peace. One on one memories, that's what's worth it. The memories and the process of making them.

Megan S, The Activity Room Member
As a member of The Activity Room,
each month you'll receive:
The Plan to Save You Hours of Your Time
(an annual value of $432)
Save 5 to 8 hours (and the headache) of searching and planning each month with a monthly activity calendar comprised of "doable" activities for your toddler or preschooler, with supplies you have on hand.
Don't run to the store for crazy supplies! The Supply list includes all the supplies you'll need for each month; you probably have most of these on hand! But just to be certain, we've made it easy for you to check the list – so you're ready for the whole month.
Easy and quick access to each week of activities (plus it's supply list)! Each week is on one sheet of paper, making it easy to print out and pin it up for the week and have a simple place to come back and check off that you did the activities gives you a sense of accomplishment.
Don't waste your time! Each activity is explained in 2-3 short sentences, with a separate detailed explanation page of each activity, with images.
The Motivation & Accountability to Keep You Connected
Be ready for the week with each week's activity plan supply list so you can easily gather up everything you need!
Get inspired and be motivated to keep on track with access to a private Facebook group to connect with other members of The Activity Room.
Daily prompts of the activity to do with your kids right at your hands when you need it. Via your preference of emails, calendar reminders, or in our very own members-only community on Facebook.
The Encouragement & Tools to be a Memory Maker
Have an action plan to become a Memory Maker, no matter where you are on your member success path that we have laid out with action steps to progress further.
Discover the ins and outs of doing activities with your child: juggling multiple kids, saying yes to the mess, conquering a small space!
Weekly tasks that provide you with encouragement and the tools to help you succeed, so you can enjoy your days while regularly implementing activities!
Total Value: $516 annually
(but that's not what you'll pay when you join)
Having a planned week of simple (doable) activities
ready for you to do with your child, makes it super easy to actually do them!
The Activity Room gave me the Biggest Amount of Tools to Use
The reason I joined The Activity Room was because of how easy it is to put the activities together.

We have speech therapy and occupational therapy. She has sensory processing disorder. It was very hard because it was affecting her behavior and stopping her from learning… I was completely lost. I don't know what's going on. I had to be very thoughtful with what I do with them. I didn't want to do activities only from the therapists, the activities ROOM has are very helpful because I can make the activities work for all the therapies. It's easy to put it together. The therapists use ROOM activities in therapy!

I love activities! Now I understand it's helpful in development or Pre-K or Kindergarten preparation. You can learn to read! We're bonding, we're playing, we're learning, we're having fun. Now I'm more focused and more confident. Instead of being scared, thinking I couldn't do it that way. My kid did it differently and thought I did it all wrong. After The Activity Room I see how others do an activity and the results are all different. It's okay! They're all different kids.

My biggest goal is to help my kids in any way that I can, and The Activity Room gave me the biggest amount of tools to do that.

Babi, Mother 2 with Sensory Disorders
OUR SIMPLE & EASY GUARANTEE:
100% Unconditional Money Back Guarantee
The Activity Room's simple and done-for-you activity plans comes with a 100% money back guarantee. You will create special moments with your kids using our activity plans, create them a childhood to remember, and have a lot of fun every day! Your friends will envy your parenting and you'll be pleased with what these activity plans do for you and your family, or we will make it right, guaranteed.

I am so confident that you'll be happily playing with your kids and so sure that you'll be overwhelmed with gratitude for our activity plans and community, that we're making this promise…

It you aren't satisfied in the first 30 days, we would not feel right keeping your money, so we make it easy to get a refund. And just to be clear, there are absolutely no strings attached, no forms to fill out, nothing to prove and we promise we won't even question you.
The Support Network is a Real Game-Changer
I was overwhelmed with all the ideas on Pinterest, and a lot of the ideas seems to baby-ish, or needed a lot of prep, or a lot of resources that I didn't have the time to go out and get.

As a stay at home mom with no one holding me accountable, I spent a lot of my time doing chores while he sat in front of the TV. And I went to bed most nights feeling guilty and upset that I was wasting precious time with him.

The Activity Room turned that all around for me, not only did it give me a schedule of activities that were appropriate and fun to do, and easy to do. It also gave me a support network of people who would hold me accountable.

Rachel B, The Activity Room Member
By now you know that activities are a great way to spend time with your child.
I'm Jamie, and I've been where you are.

When my oldest was a toddler, I was super excited to start doing activities with him because I have fond memories of doing them as a child. But I quickly realized that elaborate activities weren't for us.

With a baby in the house – I just couldn't take the time to prepare for an activity for my toddler that probably would last only mere seconds, or spend money on supplies that I'd only use once. I didn't know what was appropriate for his age at the time. Or how to get my child engaged and interested in the activities we did.

That all changed when I studied my child and started doing activities that suited his interests, development and abilities. And that were easy to set up that used supplies I had on hand.

I share them all here, on Hands On As We Grow, where I've helped and challenged over 130,000 parents to simplify their activities and create a memorable childhood for their kids, every day.

YOUR BONUSES!
Even more ways to connect with your family!
These bonuses are only available with the purchase of The Activity Room membership.
Bonus #1: Bringing the Family Together eBook
Our past 13 Monthly themes that bring your family closer together throughout the entire year all in one spot in a handy downloadable eBook. We are retiring many of these at this time.
Includes 25 printables that help you organize and better your family!
Themes include: self-care, screen time rules, back to school routines, exercising together as a family, finding time for activities, and many, many more!
Bonus #2: Activity Cards for Quick Reference
60 favorite tried-and-true activities to have on hand for those spur of the moment activities
Photos, tips, and how to do the activity on one 4×6 index card. Print them off on index cards or four to a sheet of printer paper.
The best (and simplest) activities for gross motor, fine motor, sensory, arts and crafts, science experiments and just plain fun!
Grab an activity in a snap with our color coded icons for easy reference
Total Value + Bonuses: $614 annually
(but that's not what you'll pay when you join)
We use it EVERY. SINGLE. DAY.
Something I've always wanted to do is homeschool them. I wanted to get a headstart by doing activities and just getting into a routine of doing something everything day. That way when we do start schooling they're already used to the process. I found my circles of places that I like to visit and sites that I like to get ideas from, but then we were just doing the same stuff over and over again.

Then I saw The Activity Room come up so I decided to give it a try. And I'm so happy that I did! Because we use it EVERY single day.

When I decided to join The Activity Room, I was hoping for… basically a little direction. Because I knew that I wanted to do something with my kids every day. I just didn't know exactly what to do. I really like the idea of being told a week in advance… "Here are all the things that you need to have in your house, because every single day I'm going to give you these activities." I'm always prepped for it! My favorite part of The Activity Room is that I can go on there and I see other Moms posting activities, that aren't necessarily on the week's agenda but they've done it with their kids. You can look at a blog and you know your activities is not going to turn out like that so you're seeing REAL moms do this stuff and it turned out with them. I like the Facebook group the best because you get a lot more ideas on top of what you're already getting. 

I feel like SUPERMOM. 

I use Instagram to share what we do as a family with my family, and they're like… "Oh my gosh! You're always doing something with your kids! I can't believe it!" It feels good! As a stay at home mom, sometimes you go unnoticed a little bit, it's nice to know that people see that this is working! You're doing the best you can, and your kids are having a good time!

Stephanie Tannin, Mother
You've got questions. We've got your answers.
Q: Can you give me an idea of how the activity plans works?

Of course! I create a new activity plan every month. Every Monday through Thursday there is a simple activity for you to do with your 2 to 5 year old. We treat Fridays as a family day where we have an activity prompt for you to do as a family.

You'll receive the full month's plan and supply list up front before each month starts, broken down into easy-to-manage weekly chunks. Some members follow the calendar week-by-week and others just use the activity library based on their needs and preferences. The choice is yours!

Q: What age is The Activity Room meant for?

Each month we send you one plan with activities designed for ages 2 to 5 year olds, and include tips to modify the activity for your child's age. (For example: an activity may originally be planned for a 3 year old, but there will be modifications for an 2 year old, or ways to make it more advanced for a 5 year old.)

I do this all in one activity plan in case you have multiple kids. This way you're all bonding together and doing one activity, instead of trying to juggle multiple activities with multiple kids. (I know it's hard enough to juggle multiple kids as it is, and The Activity Room is all about less stress!)

Don't have multiple kids? The modification tips are a fantastic way to adapt an activity to your child's unique development and preferences.

Q: What if I buy the monthly plan now, and decide I really like it, can I upgrade to annual next month?

Yes! Once you're a member, you can upgrade your plan at any time to the annual option to save yourself (almost) 4 monthly payments over the year! You'll save $47!

Q: What if you raise the price of The Activity Room, will that affect my monthly or annual charge?

Absolutely not. As long as you are a member in good standing, your monthly or annual charge will forever be the same. Forever.

Q: I'm not sure I'm ready to join yet, will I be able to join next month?

Nope. Enrollment for The Activity Room will only be open through Thursday, September 20th at midnight CT.

There will never be the "perfect" time to join. You are a busy mom, and there will always be other things you could do with the $9/month, and there will always be reasons to put nurturing bonds and making memories on hold. If you're interested at all, sign up now before it's too late!

Public Enrollment isn't scheduled to open again until 2019.

Q: I have an 18 month old — would The Activity Room work for me right now?

The Activity Room is most fitting for 2 to 5 year olds. However, we have a lot of members who have younger kids right now. Most activities in the activity plans offer variations to simplify (or advance) the activity for your child. Many members of young ones make use of the Activity Library with hundreds of activities organized to help you find one perfect for that age.

In addition, our members-only Facebook community is super helpful in offering variations of activities that have worked for them!

Q: What is your cancellation policy?

If you sign up with the monthly plan, you can cancel anytime! No strings attached. If you sign up for the yearly plan, and decide it's not a good fit, we offer full refunds within the first 30 days.

Q: How does billing work?

This works like any other online monthly subscription (like Netflix). You will be billed on the same day of the month, every month (or year, depending on which option you choose).

Q: I find so many free activities through your blog, Pinterest, Facebook and everywhere! Why would I join The Activity Room instead of just using those activities for free?

Such a great question! Members would tell you that what keeps them motivated, inspired and consistent with doing activities is having the guidance, community support, and ease that The Activity Room provides.

Another perk: I do ALL the planning for you!

By having all the planning done for you, you'll be able to focus on the bigger adventures in your life!

Our activity calendars are curated each month for you to discover simply ideas that keep your child engaged and interested, as well as learning new things. We strategically plan each month to cover all areas of development and learning throughout the month.

Additionally, you get access to the entire library of activities and crafts that will save your rainy days from being boring — or worse, zombied out in front of a screen.

You'll never hear "I'm bored" again :)
Have the fun delivered right to your inbox!
It's like hitting the "EASY" button -- week after week.
Enrollment will only be open through this Thursday -- at that time we'll officially close the doors to the public until 2019.
You'll also get the $98 worth of bonuses that help you be present with your kids!
 Join now. Cancel anytime.
 Monthly Activity Calendar
 Quick Reference Supply List for Plans
 Weekly Activity Plans to Hang Up
 Reminders for Accountability & Motivations
 Tools & Action Plan to Become a Memory Maker
 Members-Only Community
 Prompts for Each Day's Activity
 BONUS: Bringing the Family Together eBook ($84 value)
 BONUS: Quick Reference Activity Cards ($14 value)
Save 25% annually! ($144 when paid monthly)
 Monthly Activity Calendar
 Quick Reference Supply List for Plans
 Weekly Activity Plans to Hang Up
 Reminders for Accountability & Motivations
 Tools & Action Plan to Become a Memory Maker
 Members-Only Community
 Prompts for Each Day's Activity
 Access to Past Year of the Archives
 A Monthly BONUS WEEK of Activities
 BONUS: Bringing the Family Together eBook ($84 value)
 BONUS: Quick Reference Activity Cards ($14 value)
Your children will thank you.
I'm bad at coming up with new things to have my two year old twins (boy girl) do. I, of course, have hundreds of Pins for toddler activities but going to find one to do each day is overwhelming with my huge board. I'm always saying "I wish someone would just hand me a schedule to follow!" Ummm you're a God send. My children thank you.

Natalie G, Mother